Queens of the Stone Age/Beaver
Split EP
Man's Ruin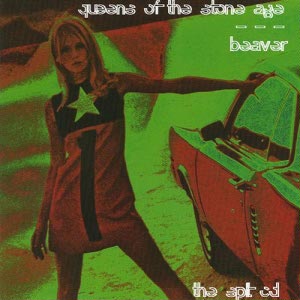 When those B-sides compilations claim to feature rare tracks, this is what they're talking about. The mighty Queens of the Stone Age worked with artist Frank Kozik's Man's Ruin label frequently before the label closed in the early 2000s. This is one of many EPs QOTSA recorded for Man's Ruin and they all remain in legal limbo due to creditors, liquidations, etc… Anyway, when they say "rare tracks", that's code for "music business bullshit and the consequences of such bullshit." This is an outstanding record that doesn't deserve the treatment it's getting.
This is where people like me step in, freeing up the music to actually be heard. Did you know that QOTSA recorded their two songs for this record in 17 minutes on April Fool's Day 1998? Of course not. You need the actual vinyl or CD to read the credits to learn that. I think of this operation as replacing radio, since modern radio is ten degrees of useless. This is not a replacement for the real thing. It's about getting people, interested in this style of music, to be able to indulge their own intellectual curiosities. America is still about
that
, right? It's a shame that it's even come to this at all.
Sorry for the ranting. I felt that needed to be said.
Each band on this EP contributed two songs. The first QOTSA song ("The Bronze") is good, but the second song ("The Ain't the Droids You're Looking For") is really good. You know? Beaver is a rocking band from Amsterdam that seems to embody every stereotype of a band from Amsterdam. This EP rules.
Queens of the Stone Age/ Beaver – Split EP
\m/