Here's an interview with Baltimore bruisers Trapped Under Ice. This interview was conducted by e-mail with vocalist Justice Tripp. Their 2007 demo is available at the end of the review. Check these guys out when they open for Full Blown Chaos at the Rock Bottom Tattoo Bar in San Antonio on 10Jan09.
Trapped Under Ice
JUSTICE(in
bold
,vocals) klipa(gutar),sam(guitar),ben(drums),jared(bass)
No Funeral: The Stay Cold EP has an interesting fusion of styles. I hear a mix of NYHC and harDCcore, but there are guitar leads and rock-and-roll riffs too. The combination totally works. What is the band's songwriting process? Are you trying to stay within genre guidelines, trying to blur them, or are you simply playing the music you create?
Justice: No guidelines really. When we decided to start this band, one standard we made was to never strive for one sound or limit ourselves from anything that we wanted to try. We're all big fans of hardcore, but also we take a lot of inspiration from outside of hardcore music.
No Funeral: I saw the video for "Soul Vice/Reality Unfolds" on You Tube and I really enjoyed it. How did the video come together? How did you hook up with director Kenny Savercool? He did a great job.

Justice: Kenny is a good friend of ours. A few of us use to play in a straight edge band called nickxfury with kenny singing. He's gone to school for film, and has always included us as actors in all his films, so it wasn't unnatural for him to do a project with us. We wanted the video to be simple and hardcore. We're currently working on a music video for "street lights" from the Stay Cold ep. Its going to be be ridiculous.
No Funeral: The vocal delivery on Stay Cold has a hip-hop cadence (of sorts). It's similar to what Biohazard used to do, but way more subtle. It doesn't sound hip-hop influenced at all. To what do you attribute this aspect of your music?
Justice: Influence from a few baltimore hardcore bands, like stout and next step up. Hip hop has had a lot of influence on punk rock, especially in the baltimore area.
No Funeral: I understand that Baltimore hardcore stalwart Next Step Up is a major influence on Trapped Under Ice. Please explain the importance of Next Step Up to you and why all the new jacks in Houston should check them out?
Justice: Next Step Up is an amazing hardcore band that did a lot for Baltimore. Without Next Step Up, I'm sure we would sound like a completely different band, if we were at all a band. (Those) Dudes were the realist of their time and continue to live hardcore lifestyles to this day. They had a message that they truly lived, and a lot of which they still live out years and years later. Too many bands today selling shit they cant live up to.
No Funeral: For a city of its size, Baltimore doesn't have as many bands as you would think. Does Baltimore have a problem with bands moving to D.C., like Houston has a problem with bands moving to Austin?
Justice: Not that I know of, at all. Baltimore is a fairly small city with a decent amount of bands coming out of it. Maybe some of the bands coming out the city aren't exactly appealling to the majority of kids involved at this period. For example, I'm sure most people know bands like Ruiner, Pulling Teeth, Slumlords, and a few others, but bands like Stout, Harsh Truth, Dead End Boys, Surroundings, Alarmed etc... have been doing there thing for a few years now, like A LOT of years. Also, we've got a lot of new bands coming up; check out Brick, Blind the Thief, and Bad Habit. Lots of shitting going on right now.
No Funeral: I've been a fan of The Wire since its inception and I'm now fascinated with comparing and contrasting the show to the real city. As a Baltimore City native, what's your take on the show? Is it good or bad for the city's image?
Justice: I'm sure it doesn't help the city's image, but its true shit. The city is almost everything the show portrays it to be, but in reality you got a lot of that shit going on everywhere. The whole worlds fucked up. I'm not too into the show, only because I've seldomly had the chance to watch it. I just got cable for the first time in like 3-4 years, so I'm going to check it out some more when I get the chance.
No Funeral: If I'm not mistaken (and if I am, please correct me), you're first show in Houston was opening for Terror and The Warriors earlier this year at Walter's. What did you think of the H-town experience?
Justice: It was our H-town first. It was a good experience. We met a lot of cool new people. It was an interesting night to say the least. Legitimately one of the top 3 craziest nights on a two-month tour. I can't wait to make it back.
No Funeral: What's the next step in the evolution of Trapped Under Ice? Any new releases? Is there an LP on the horizon?
Justice: We just released a split with our good friends from england, Dirty Money. A full US in January to promote that. A new bass player, his name is jared and he's already brought a lot to the band. He's a perfect fit for the band in every way, I'm excited to get out and tour with him. We're currently writting for an LP to be released early '09 on Reaper Records. We've put a lot of time into it so far and will continue to do so until we are completely happy with what we have as a final product. Before and after that is out, we have a lot of plans for touring to promote it; US, Europe, and hopefully Japan and Australia.
No Funeral: When will you be hitting the road again? More importantly, when will you be coming back to Texas?
Justice: In January, we've got a few Texas dates lined up. Like I said, to promote for the split, Dirty Money will be with us, also Full Blown Chaos and Reign Supreme. It will definitely be a good time. Let's make Bitter End play those dates!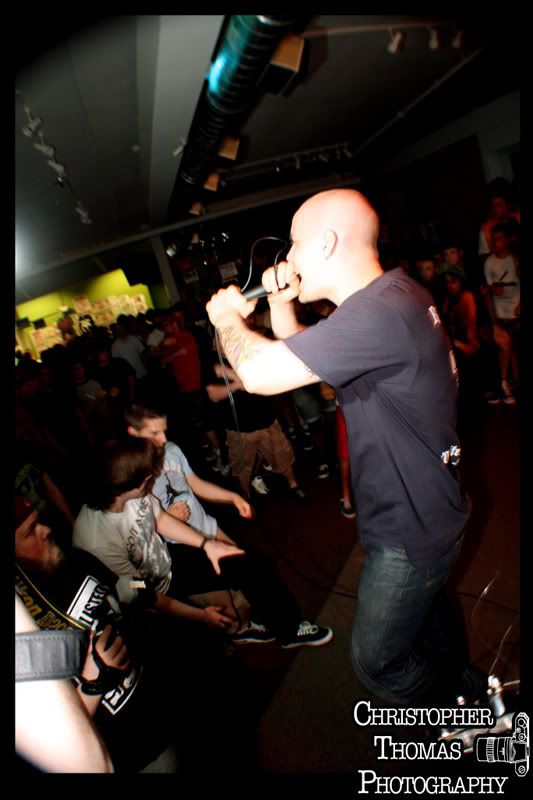 Trapped Under Ice 2007 Demo:
http://www.mediafire.com/?sharekey=8cd64f554003e6bf91b20cc0d07ba4d2e00ae9d59dda047b