No Funeral
Top Ten of 2008
"The Hate in 0-8"
Here it is: the stuff that you should have bought/downloaded/shoplifted over the course of the past 12 months. Bravo to those who did. Dissenting opinion? Leave a comment. Friendly discussion is always encouraged. Enjoy the (mostly) MediaFire links. Happy New Year!
Number 10:
Burnt Cross
Carcass of Humanity
Punks before Profits
Burnt Cross emerged, this year, as the band that set the standard for modern peace punk: subdued, solemn, and poetic. Check out the original review
here
.
Burnt Cross – Carcass of Humanity
Number 9:
Metallica
Death Magnetic
Warner Bros.
No, it doesn't sound like the old stuff. Yes, it is lame that they mixed it with the "ear buds" in mind. Yes, this record is brutal. No,
Death Magnetic
does not suck.
Metallica (apparently has some issue with downloading) – Death Magnetic
Number 8:
Overcast
Reborn to Kill Again
Metal Blade
I like the way that Bill Bates, of KPFT's
Ejacula
show, described this album: After years of selling out, the ding-dongs from the who-know-who bands finally got their shit together and reformed their cool band.
I agree. What you have here is a weird compilation of Overcast material. Several re-recorded older songs, including much of
Fight Ambition to Kill
, and a few new numbers. Most children of the 90s jizzed over this one.
Overcast - Fight Ambition to Kill
Number 7:
Arson Anthem
Debut EP
Housecore
After his
much-maligned detours
during and after Hurricane Katrina, Mike Williams (EyeHateGod) crashed with one Phillip "Anton Crowley" Anselmo, where they got drunk and listened to old punk vinyl. Eventually, Hank III and Collin Yeo got in on the act and the rest is Arson Anthem. Their debut EP, recorded in Houston and released on Anselmo's Housecore label, is 80s style hardcore that lands somewhere between Poison Idea and Negative Approach. It's desperate and pissed.
Arson Anthem - Debut EP
Number 6:
No Talk
Invade Iran
AG82
KGBeasley (ex-Insect Warfare) dumps the grind, links up with Josh Psycho Wolf and Tom of Montrose in order to produce some of the sleaziest, drunken leather-punk Houston has ever seen. Must be seen and heard to be believed. Counter-culture Nazi!
No Talk – Invade Iran
Number 5:
Book of Black Earth
Horoskopus
Prosthetic
Blackened death metal played by deranged Seattle maniacs. Lyrically,
Horoskopus
discusses the astrological origins of Christianity. Musically, it's keyboard-drenched heaviness by ex-members of Teen Cthulhu and Skarp. They're on tour this spring with Cattle Decapitation.
Book of Black Earth – Horoskopus
Number 4:
Trapped Under Ice
Stay Cold
Reaper Hardcore
Everything you need to know about Trapped Under Ice can be found in my
interview
with them. Seriously, go see this band 10Jan09 in San Antonio, when they play with Full Blown Chaos.
Trapped Under Ice – Stay Cold
Number 3:
Gojira
The Way of All Flesh
Prosthetic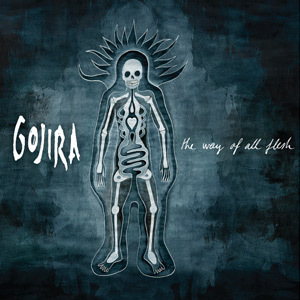 The new Gojira is an example of the bar being raised for all metal bands, like Lamb of God's
New American Gospel
and Fear Factory's
Soul of the New Machine
did years before. This album is becoming a classic before our eyes. Plus, it is some kind of heavy (very heavy, the best kind).
Gojira – The Way of New Flesh
Number 2:
Trap Them
Seizures in Barren Praise
Deathwish Inc.
Trap Them has never heard of the sophomore slump and
Seizures in Barren Praise
has reached a new level of ferocity with their second LP. It's the heaviness of Swedish death metal with the bleak prospects of American crust. Grim shit, indeed. Maybe it is Entombed for the new-school, but who cares? Prepare to be killed.
Trap Them – Seizures in Barren Praise
Number 1:
Cursed
III: Architects of Troubled Sleep
Goodfellow
The long-awaited third LP from this decade's greatest hardcore band turned out to be the band's unfortunate swansong. Cursed chose to disband after an incident in Europe. The will leave as one of the very few bands that, simply, did not release any crap.
III: Architects of Troubled Sleep
is possibly their best album (think
II
) and features my single favorite song by the band, "Friends in the Music Business." Cursed will be missed.
Cursed – III: Architects of Troubled Sleep