For those keeping score at home, it was six months back when I promised "big news" within the "next two weeks." Well, the big news is that I've relocated to Austin, Texas and No Funeral will be redesigned and relaunched "soon." "Soon" actually means soon this time; 30-60 days away. In the meantime, new content will be posted on the old site. Think of this as batting practice before the game. As always, you can reach me at no-funeral@hotmail.com. Now, down to business...
Bloodlined Calligraphy
The Beginning of the End
Facedown/Strike First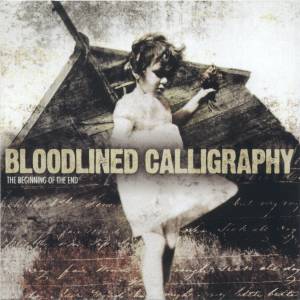 The last time Rocky Riddell (law student/liberty advocate) and I hung out before we both moved away from Huntsville, we ate lunch in Conroe. Upon the successful devourment of chicken-fried steak, we walked over to
Hastings
and pawed through the dollar bins. That where and when I found
The Beginning of the End
.
I'd heard the band off and on over the years but I never owed one; so I took a one dollar gamble that paid off. Bloodlined Calligraphy play destructive, solid metalcore in the vein of a Midwestern Indecision.
The Beginning of the End
is filled with melodic guitar work and jackhammer breakdowns, sprinkled with crushing blastbeats. For that early to mid-2000s metalcore sound, the clean singing is kept to a minimum.
Bloodlined Calligraphy was a Christian, straight-edge band who's members never acted like glassy-eyed fundamentalists nor flag-waving crusaders. They simply offered an uplifting message for the positive youth and the more open-minded old fucks standing over by the bar. Also worth mentioning is Bloodlined Calligraphy's hometown in the decidedly non-living-nightmare part of Michigan known as Ypsilanti.
Vocalist Amy French pullsw off a Great Lakes miracle by delivering a vocal performance not at all reminiscent of Candace Kucsulain; she of regional superstars Walls of Jericho. Speaking of regional superstars,
The Beginning of the End
was recorded and produced by none other than Ryan "Bart" Williams of the Black Dahlia Murder, so there's your daily dose of death metal trivia.
Although an official announcement has not been made, it is unlikely that Bloodlined Calligraphy will continue as a band following the death of bassist Eric Cargile in 2010. It's a shame they never got their due.
The Beginning of the End
is the middle ground between All Out War and All That Remains.
Overlooked. Forgotten. Recommended.
Bloodlined Calligraphy
The Beginning of the End
Before I go, I'd like to take a moment to thank all of the grinders and thrashers in the ATX for making me feel at home. You guys welcomed me with open arms and I'd like to say thank you from the bottom of my heart.