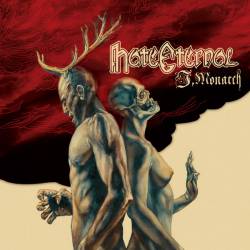 HATE ETERNAL
I, Monarch
Earache
Hate Eternal's 2005 effort "I, Monarch" is still the fierce, blasting death you've come to know and love, but Erik Rutan must have been possessed by the blast beat demons when he wrote this one; even more so than usual. This album reaches grindcore velocity, but make no mistake. Hate Eternal are
meh-tul
and don't you forget it.
Once again, Derek Roddy's drum performance proves that he is the man, even if some of this album's later tracks get repetitive. This isn't an issue for "To Know Our Enemies", the best song on the album. If you've never heard this band before, download that track and check them out. You won't be disappointed.
Apparently, Rutan wants you to know about Zero Karma, which is some band that he loves. Hate Eternal samples Zero Karma on the song "I, Monarch", former members make vocal appearances, and he thanks them about 20 times inside the liner notes. Okay, I get it. I'll check them out.
Here's the video for the title track off "I, Monarch."